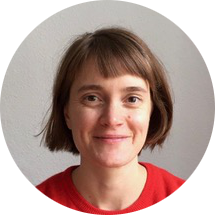 I believe yoga is a practice we do with kindness and respect for ourselves.
Whatever the aim or reason to start yoga, it brings a certain rebalance in the body and in the mind.
Yoga is a precious tool to (re)connect with our inner by observing our needs and accepting our physical capacities. It's all about connecting with breath rhythm, state of mind, here and now. We don't need to achieve anything by doing yoga but it's very likely to discover and understand our body better, to find calmness, space, peacefulness.
The type of yoga I'm proposing is called "integral yoga". We will practice breathing exercises (Pranayama), postures (Asanas), relaxation – sometimes meditation – sometimes mantra singing.
Every session starts with some pranayama. We breathe. Whatever we do, it's happening. Breathing exercises help to rebalance exhale and inhale to calm down the breath rhythm. Automatically being conscious of breathing changes the way we act, speak and the way we can handle stress. The sequences are made in order to equally muscle and stretch the whole body. Sometimes focused on a body part, sometimes connected to the season or to some need you would have. I like to bring a theme at every session.
As we all have different physical capacities, I will guide you as precisely as possible and give alternatives, so that everyone has the chance to find his own way. I like to take time during the asanas to train muscles and to observe our breath and thoughts during a physical effort. In Integral Yoga, the technics we use are very old. As long as we are not living like sages in the Himalaya, our body and mind have other needs and possibilities. Therefore, we adapt the practice to our modern life. Very interested in Ayurveda, I keep on discovering amazing technics to use our body / breath / mind in a better way, for us and for people around us.
My classes will be taught in English, and please feel welcome to join whatever language is yours!
Hope to see you soon,
Cindy